Product Name: Meropenem
Generic Name: Meropenem
Common Brands: Meronem
Pharmaceutical Categories: Antibiotics, Anti-Infectives

Where to buy Meropenem online:


Shop | Product | Forms | Strength | Conditions

MEDICINES STORE

10% discount coupon: MSD10
Payment: PayPal, Visa, Mastercard, AmEx, Discover, JCB, eCheck, Bitcoin
Shipping: worldwide
Delivery: regular airmail, express courier


Meropenem (trade names include Merrem IV, Meronem IV, Merocrit, Meromac, Meroplan, Merotrol, Meroza, Optinem) is a broad-spectrum injectable antibiotic from carbapenems pharmacological group. This medication is used to treat many types of moderate to severe bacterial infections, such as bacterial meningitis, pneumonia, intra-abdominal infections, sepsis, septicaemia, anthrax, febrile neutropenia, lung infections in cystic fibrosis patients, complicated skin and skin structure infections, bladder, kidney and womb infections. The spectrum of action includes many Gram-positive and Gram-negative bacteria (including Pseudomonas) and anaerobic bacteria. It works as bactericide by killing sensitive bacteria, except against Listeria monocytogenes, where it is bacteriostatic.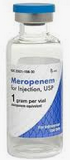 Customers also buy these medications from the same pharmacological classes:


Betamipron, Panipenem (Carbenin)
Biapenem (Omegacin)
Cilastatin, Imipenem (Primaxin)
Cilastatin, Imipenem, Relebactam (Recarbrio)
Doripenem (Doribax, Finibax)
Ertapenem (Invanz)
Meropenem, Vaborbactam (Vabomere)
Tebipenem Pivoxil (Orapenem)
Tetracycline (Sumycin)


Pharmaceutical and medical classifications:


Anti infective drugs
Antibacterial medications
Antibiotics
Beta-lactam antibacterials
Beta-lactams
Broad-spectrum antibiotics
Injectable antibiotics
Intravenous antibiotics


The Anatomical Therapeutic Chemical (ATC) classification system (developed by the World Health Organization):


J - Antiinfectives for systemic use
J01 - Antibacterials for systemic use
J01D - Other beta-lactam antibacterials
J01DH - Carbapenems
J01DH02 - Meropenem


Medical conditions for meropenem in the International Statistical Classification of Diseases and Related Health Problems:


Anthrax - A22
Other bacterial diseases - A30-A49
Other disorders of blood and blood-forming organs - D70-D77
Cystic fibrosis - E84
Inflammatory diseases of the central nervous system - G00-G09
Acute upper respiratory infection - J00-J06
Influenza and pneumonia - J09-J18
Infections of the skin and subcutaneous tissue - L00-L08
Diseases of the genitourinary system - N00-N99
Other disorders of urinary system - N39
Symptoms and signs involving the digestive system and abdomen - R10-R19


Pregnancy category:


B - Australia
C - United States (Risk cannot be ruled out)


Forms of active pharmaceutical ingredients (APIs):


Meropenem Base
Meropenem Anhydrous
Meropenem Hydrate
Meropenem Sodium
Meropenem Sodium Carbonate
Meropenem Trihydrate
Meropenem Trihydrochloride


Chemical, international, and other names of this drug:


Meropeneemi
Meropenemum
Meropenemum Trihydricum


Most known trade names (brands and generics) worldwide:


Merocrit - Cipla
Meromac - Macleods Pharmaceuticals
Meronem - AstraZeneca, Cana, Cooper Pharma, DKSH, Four Star, Spenser Pharma UK, Sumitomo Pharmaceuticals, Teva, Zuellig Pharma
Meronem I.V. - AstraZeneca
Meropenem - Hospira, Sandoz
Meroplan - Abbott
Merotrol - Lupin Pharmaceuticals
Meroza - Zydus Cadila
Merrem - AstraZeneca, Pfizer
Merrem IV - AstraZeneca
Optinem - AstraZeneca


Other medicines used in combinations with meropenem:


Clavulanic Acid
Sodium Chloride
Sulbactam
Vaborbactam


References and external sources:


Meropenem main article on Wikipedia: https://en.wikipedia.org/wiki/Meropenem
Meropenem compound on PubChem: https://pubchem.ncbi.nlm.nih.gov/compound/Meropenem
Meropenem Trihydrate compound on PubChem: https://pubchem.ncbi.nlm.nih.gov/compound/Meropenem-trihydrate
Meropenem medicine on DrugBank: https://go.drugbank.com/drugs/DB00760
Meropenem Trihydrate on DrugBank: https://go.drugbank.com/salts/DBSALT002823
Meropenem Sodium on DrugBank: https://go.drugbank.com/salts/DBSALT002981
Meropenem Injection FAQ on MedlinePlus (revised 09/15/2016): https://medlineplus.gov/druginfo/meds/a696038.html
Merrem IV (Meropenem) injection drug label on DailyMed (revised August 6, 2021): https://dailymed.nlm.nih.gov/dailymed/drugInfo...
Meropenem injection drug label on DailyMed (revised September 24, 2020): https://dailymed.nlm.nih.gov/dailymed/drugInfo...
Merrem IV (Meropenem for injection), for intravenous use official prescribing and patient counseling information from the U.S. FDA (revised 12/2016): https://www.accessdata.fda.gov/drugsatfda_docs/label...
Merrem IV (Meropenem) injections prescribing and patient counseling information from Pfizer pharmaceutical company (revised 04/2019): http://labeling.pfizer.com/ShowLabeling.aspx?id=9318
Meronem IV (Meropenem) 500 mg product information on Medicines.org.uk (revised 23 Dec 2019): https://www.medicines.org.uk/emc/medicine/11215
Meronem IV (Meropenem) 500 mg and 1 g powder for solution for injection or infusion package information leaflet on Medicines.org.uk (revised 02/2021): https://www.medicines.org.uk/emc/files/pil.6731.pdf

Revised: May 2022


---

Disclaimer: Please note, this website is not an online pharmacy, drugstore and related online pharma shop. It does not sell, supply or advertise any prescription and OTC drugs, medications, other goods and services. All reviews, links, lists, databases, texts, and other content on the website are provided free and only for informational and educational purposes. Medical content on this website, including drug names, indications, contraindication, side effects, categories, classifications, forms, doses, prices, other health and pharmaceutical information are taken only from trusted and authoritative professional sources (see "References"), reviewed and prepared by our licensed experts, content inspectors and editors.
You should always consult your doctor or other healthcare professional before using any medication. This website, our staff and support do not provide own medical instructions and advices.
All brands and trade names appearing on the website are registered trademarks and intellectual property of their respective companies.
Remember that buying drugs and medicines online is a responsibility only of customers, sellers and suppliers regarding existing legislation in their jurisdictions.



Share us in social media: