Product Name: Pirfenidone
Generic Name: Pirfenidone
Common Brands: Esbriet, Pirespa, Pirfenex
Pharmaceutical Categories: Immunosuppressants

Where to buy Pirfenidone online:


Shop | Product | Forms | Strength | Conditions

DFH PHARMACY

10% discount coupon: DFH10
Payment: Visa, Mastercard, AmEx, Discover
Shipping: worldwide
Delivery: standard airmail service, trackable service

MEDS FOR SALE

5% discount coupon: 5OFF
Payment: Visa, Mastercard, AmEx, Bitcoin, Tether (USDT)
Shipping: worldwide
Delivery: unregistered mail, trackable courier


Pirfenidone (trade names include Pirfenex, Esbriet, Etuary, Pirespa, Pulmofib) is an immunosuppressant medication from antineoplastic and immunomodulating agents pharmacological group. This medicine is used for the treatment of mild-to-moderate idiopathic pulmonary fibrosis, chronic liver fibrosis. In topical forms it is indicated for abnormal wound healing processes, skin ulcers, scars and fibrotic tissue. Pirfenidone works by reducing lung fibrosis through downregulation of the production of growth factors and procollagens I and II.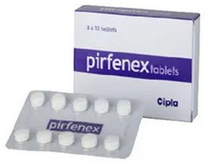 Customers also buy these medications from the same pharmacological classes:


Daclizumab (Zinbryta)
Darvadstrocel (Alofisel)
Dimethyl Fumarate (DMF)
Etanercept (Enbrel)
Pomalidomide (Pomalyst)
Tretinoin (Retin-A)


Pharmaceutical and medical classifications:


Anti-inflammatory medications
Antifibrotic agents
Immunomodulators
Immunosuppressive drugs
Medicines for the therapy of idiopathic pulmonary fibrosis


The Anatomical Therapeutic Chemical (ATC) classification system (developed by the World Health Organization):


L - Antineoplastic and immunomodulating agents
L04 - Immunosuppressants
L04A - Immunosuppressants
L04AX - Other immunosuppressants
L04AX05 - Pirfenidone


Medical conditions for pirfenidone in the International Statistical Classification of Diseases and Related Health Problems:


Other interstitial pulmonary diseases - J84
Pulmonary fibrosis, unspecified - J84.10
Idiopathic pulmonary fibrosis - J84.112
Fibrosis and cirrhosis of liver - K74
Other disorders of skin and subcutaneous tissue, not elsewhere classified - L98


Pregnancy category:


B3 - Australia
C - United States (Risk cannot be ruled out)


Forms of active pharmaceutical ingredients (APIs):


Pirfenidone Base


Chemical, international, and other names of this drug:


5-Metyl-1-phenyl-2(1H)-pyridone
Pirfenidon
Pirfenidona
Pirfenidonum


Most known trade names (brands and generics) worldwide:


Esbriet - Roche, AndersonBrecon Pharmaceuticals, Catalent, Genentech, Haemato Pharm, Intermune
Etuary - GNI Group
Fibridoner - DOSA Laboratorio
Mirfendo - MBA Pharmaceuticals
Misofagan - Tuteur Laboratorio
Oxitinol - LKM Laboratorio
Performa - Bago Laboratorios
Pirespa - Shionogi
Pirfect - Nobel Ilac
Pirfedo - Care Formulation Labs
Pirfefor - Fortune Healthcare
Pirfeheal - Healing Pharma
Pirfenex - Cipla
Pirfenidone - Lexicare Pharma
Pulmofib - MSN Laboratories


References and external sources:


Pirfenidone main article on Wikipedia: https://en.wikipedia.org/wiki/Pirfenidone
Pirfenidone compound on PubChem: https://pubchem.ncbi.nlm.nih.gov/compound/Pirfenidone
Pirfenidone medicine on DrugBank: https://go.drugbank.com/drugs/DB04951
Pirfenidone FAQ on MedlinePlus (revised 03/15/2017): https://medlineplus.gov/druginfo/meds/a615008.html
Esbriet (Pirfenidone) capsules and coated tablets drug label on DailyMed (revised February 18, 2022): https://dailymed.nlm.nih.gov/dailymed/drugInfo...
Amneal Pirfenidone capsules drug label on DailyMed (revised May 12, 2022): https://dailymed.nlm.nih.gov/dailymed/drugInfo...
Esbriet (Pirfenidone) capsules 267 mg for oral use official prescribing information and medication guide from the U.S. FDA (revised October 2014): https://www.accessdata.fda.gov/drugsatfda_docs/label...
Esbriet (Pirfenidone) capsules 267 mg, tablets 267 mg and 801 mg prescribing and patient information from Genentech, Inc. (revised 02/2022): https://www.gene.com/download/pdf/esbriet_prescribing.pdf
Esbriet (Pirfenidone) tablets official website for U.S. healthcare professionals powered by Genentech USA, Inc.: https://www.esbriethcp.com/
Esbriet (Pirfenidone) tablets official website for patients and caregivers: https://www.esbriet.com/
Pirfenex (Pirfenidone) film-coated tablets 200 mg and 400 mg prescribing information from Cipla (revised 21/01/2020): https://www.ciplamed.com/content/pirfenex-tablets
Esbriet (Pirfenidone) hard capsules 267 mg package information leaflet from Medicines.org.uk (revised February 2022): https://www.medicines.org.uk/emc/files/pil.3705.pdf

Revised: June 2022


---

Disclaimer: Please note, this website is not an online pharmacy, drugstore and related online pharma shop. It does not sell, supply or advertise any prescription and OTC drugs, medications, other goods and services. All reviews, links, lists, databases, texts, videos, images, and other content on the website are provided free and only for informational and educational purposes. Medical content on this website, including drug names, indications, contraindication, side effects, categories, classifications, forms, doses, prices, other health and pharmaceutical information are taken only from trusted and authoritative professional sources (see "References"), reviewed and prepared by our licensed experts, content inspectors and editors.
You should always consult your doctor or other healthcare professional before using any medication. This website, our staff and support do not provide own medical instructions and advices.
All brands and trade names appearing on the website are registered trademarks and intellectual property of their respective companies.
Remember that buying drugs and medicines online is a responsibility only of customers, sellers and suppliers regarding existing legislation in their jurisdictions.