Product Name: Oseltamivir
Generic Name: Oseltamivir
Common Brands: Tamiflu
Pharmaceutical Categories: Antivirals

Where to buy Oseltamivir online:


Shop | Product | Forms | Strength | Conditions

MEDS FOR SALE

5% discount coupon: 5OFF
Payment: Visa, Mastercard, AmEx, Bitcoin
Shipping: worldwide
Delivery: unregistered mail, trackable courier


Oseltamivir (trade names include Tamiflu, Antiflu, Fluhalt, Fluvir, GPO-A-Flu, Rimivat) is an antiviral medication from neuraminidase inhibitors pharmacological group. This medicine is used for the treatment and prevention of influenza A and influenza B (flu). It works by blocking the actions of influenza virus types A and B in your body.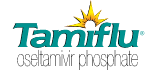 Customers also buy these medications from the same pharmacological classes:


Laninamivir (Inavir)
Peramivir (Rapivab)
Zanamivir (Relenza)


Pharmaceutical and medical classifications:


Anti flu medicines
Antiinfective medications
Antiviral drugs
Influenza's neuraminidase enzyme inhibitors


The Anatomical Therapeutic Chemical (ATC) classification system (developed by the World Health Organization):


J - Antiinfectives for systemic use
J05 - Antivirals for systemic use
J05A - Direct acting antivirals
J05AH - Neuraminidase inhibitors
J05AH02 - Oseltamivir


Medical conditions for oseltamivir in the International Statistical Classification of Diseases and Related Health Problems:


Influenza due to certain identified influenza viruses - J09


Pregnancy category:


B1 - Australia
C - United States (Risk cannot be ruled out)


Forms of active pharmaceutical ingredients (APIs):


Oseltamivir Base
Oseltamivir Phosphate


Chemical, international, and other names of this drug:


Oseltamiviiri
Oseltamiviro
Oseltamivirum
Oseltamiwir
Oszeltamivir


Most known trade names (brands and generics) worldwide:


Antiflu - Cipla
Fluhalt - Ranbaxy, Pharmaniaga
Fluvir - Hetero Healthcare
GPO-A-Flu - The Government Pharmaceutical Organization
Rimivat - Andromaco Laboratorios
Tamiflu - Roche, Genentech, Gilead


References and external sources:


Oseltamivir main article on Wikipedia: https://en.wikipedia.org/wiki/Oseltamivir
Oseltamivir compound on PubChem: https://pubchem.ncbi.nlm.nih.gov/compound/oseltamivir
Oseltamivir Phosphate compound on PubChem: https://pubchem.ncbi.nlm.nih.gov/compound/Oseltamivir-phosphate
Oseltamivir medicine on DrugBank: https://www.drugbank.ca/drugs/DB00198
Oseltamivir Phosphate on DrugBank: https://www.drugbank.ca/salts/DBSALT000881
Oseltamivir FAQ on MedlinePlus (revised 01/15/2018): https://medlineplus.gov/druginfo/meds/a699040.html
Flu information FAQ on MedlinePlus (revised 08/13/2020): https://medlineplus.gov/ency/article/000080.htm
Tamiflu (Oseltamivir Phosphate) capsules and powder for suspension drug label on DailyMed (revised June 23, 2021): https://dailymed.nlm.nih.gov/dailymed/lookup...
Amneal Oseltamivir Phosphate capsules drug label on DailyMed (revised January 7, 2021): https://dailymed.nlm.nih.gov/dailymed/drugInfo...
Tamiflu (Oseltamivir Phosphate) capsules and powder for suspension official prescribing information and medication guide from the U.S. FDA (revised 12/2018): https://www.accessdata.fda.gov/drugsatfda_docs/label...
Tamiflu (Oseltamivir Phosphate) capsules and powder for suspension prescribing and patient information from Genentech, Inc. (revised 08/2019): https://www.gene.com/download/pdf/tamiflu_prescribing.pdf
Tamiflu (Oseltamivir Phosphate) official website powered by Genentech USA, Inc.: https://www.tamiflu.com/
Tamiflu (Oseltamivir Phosphate) 75 mg hard capsules patient information leaflet on Medicines.org.uk (revised January 2022): https://www.medicines.org.uk/emc/files/pil.1194.pdf
Antiflu (Oseltamivir Phosphate) capsules and powder for suspension on Cipla pharmaceutical company website (revised 05/04/2020): https://www.ciplamed.com/content/antiflu-capsules-suspension

Revised: July 2022


---

Disclaimer: Please note, this website is not an online pharmacy, drugstore and related online pharma shop. It does not sell, supply or advertise any prescription and OTC drugs, medications, other goods and services. All reviews, links, lists, databases, texts, and other content on the website are provided free and only for informational and educational purposes. Medical content on this website, including drug names, indications, contraindication, side effects, categories, classifications, forms, doses, prices, other health and pharmaceutical information are taken only from trusted and authoritative professional sources (see "References"), reviewed and prepared by our licensed experts, content inspectors and editors.
You should always consult your doctor or other healthcare professional before using any medication. This website, our staff and support do not provide own medical instructions and advices.
All brands and trade names appearing on the website are registered trademarks and intellectual property of their respective companies.
Remember that buying drugs and medicines online is a responsibility only of customers, sellers and suppliers regarding existing legislation in their jurisdictions.



Share us in social media: